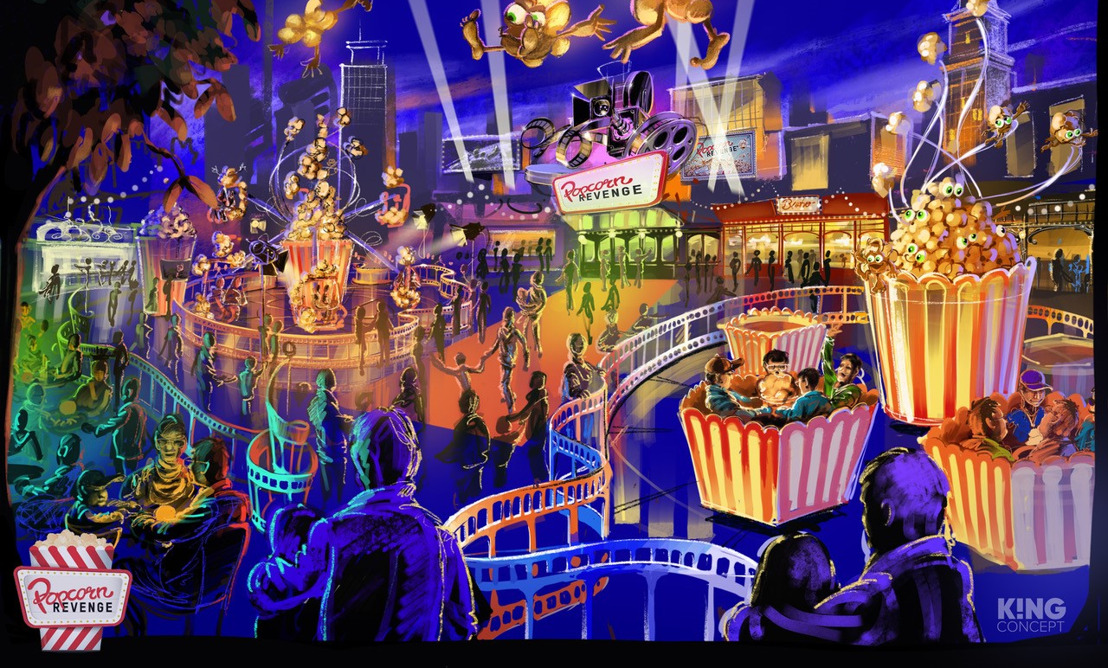 Alterface presents 'Popcorn Universe' at IAAPA EXPO
IP and ride technology extend visitor experiences
Wavre, Belgium, 19 November 2019 – Alterface is presenting at IAAPA Expo in Orlando how interactive attractions can extend the visitor experience with IP and merchandising across the entire venue or a specific themed park area. Based on its successful Popcorn Revenge ride, the popcorn IP is now shaping up into an all-encompassing and magical 'Popcorn Universe'.
The Popcorn Revenge ride was built by Alterface as turnkey solution in Walibi Belgium, receiving multiple awards as best family ride and best use of technology. The park developed in partnership with Alterface a comprehensive merchandising programme, resulting in an important ROI. Popcorn Revenge is based on Alterface's Erratic Ride technology, deploying a non-linear ride concept which offers unique visitor experiences. The proprietary popcorn IP is implemented in different scenes across the cinema theatre, featuring popcorn pirate, superhero, horror and space characters.
Self-contained Popcorn Universe
The popcorn figures are very versatile and can easily adapt to market and cultural preferences, or even geographic features, which is why it will work so well in any kind of park or venue. And while the interactive ride will remain at the heart of the attraction, plans for a self-contained 'Popcorn Universe' are now shaping up. The concept can be easily applied to dueling rides or any other kind of attraction.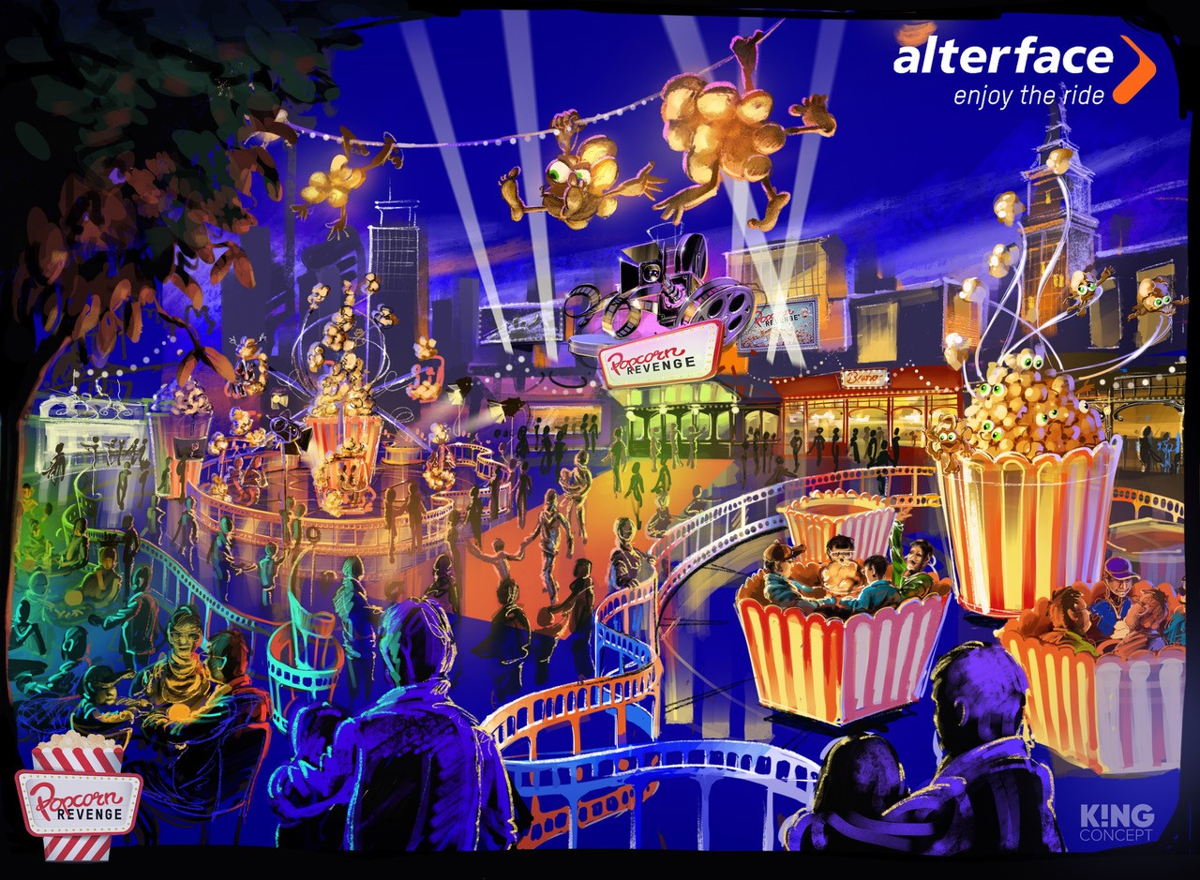 Benoit Cornet, CEO & Founder of Alterface, explains: "Expanding the IP into the Popcorn Universe is the result of listening to our customers and connecting the dots of all their suggestions. In a market dominated by superlatives, promises and often unfounded claims, we want to keep a close grip on reality. A dark ride is not always enough to generate traffic to the park, yet everybody will agree that it is a real must to entertain families. Therefore, we are taking a 'push-pull' approach: use the dark ride attraction to create the emotional band with the IP, resulting in a significant increase in merchandising sales and using the outdoor part to generate visibility."
To create this new Popcorn Universe, Alterface teams up with experts that have proven their value in creating such concepts. King Concept is an entertainment design studio in Belgium, who has been successfully crafting shows, attractions and entire parks for Studio 100 across Europe. Their team supports the concept development and creative engineering of the Alterface Popcorn Universe. Building on King Concept's expertise the Alterface team is currently developing a 10.000 SqM model that can accommodate 400 to 5,000 people at one single moment – which is the magical number for providing a strong return on investment. At the centre of this all is the Erratic Ride technology, with intensive use of the IP across all attractions.
Relive the magical experience
Travelling the world with Popcorn Revenge as a dark ride, the Alterface team discovered that the IP could be very well adapted to Chinese mythology, as fans of the figurine, the cute popcorns are a collector's dream. "We have seen a tremendous interest from the Asian, and more particular Chinese, market in our popcorn IP, they absolutely adore it." comments Benoit Cornet.
While established IPs have an army of fans, many were never designed for life in a theme park, creating a kind of 'label-slapping' effect. In addition to being scalable and affordable, Popcorn Revenge was first designed to be a game and the IP is an embodiment of it.
Benoit Cornet concludes: "We see tremendous possibilities with the Popcorn Revenge IP in dark rides and other attractions. Parks need new and creative approaches to pull in visitors, who expect more than a short ride or thrill. They want to be immersed and engaged in a magical world, bringing it home to enjoy and relive their wonderful experience."